Looking for the best junk removal in northwest Pennsylvania? Look no further. Our trash disposal and cleanout services keep your residential or commercial property clean and hazard-free. If you make the call, we'll make the haul!
Need your old furniture removed? We'll come by and give you a hand with our top-notch furniture disposal service. We haul away couches, sofas, tables, chairs, mattresses, drawers, and much more.
Don't leave that stove or fridge out on the curb. We'll help you with your appliance disposal needs. In addition to refrigerators, we safely dispose of stoves, ovens, dishwashers, freezers, washing machines, and dryers.
Rather than let yard waste sit around and cause safety or fire hazards, let us help you get rid of it fast and cheaply. We ably dispose of tree branches and sticks, stones, dirt, weeds, leaves, mulch, and soils.
Televisions, PCs, and other electronics require special disposal. Let's work together to recycle your electronics. We recycle computers, computer hardware, radios, DVD players, VCRs, clocks, and video game systems.
Hot tubs are heavy, clunky, and tough to dispose of. We're your hot tub disposal experts that remove all shapes, sizes and brands of spas. That includes their motors, pumps, filters and electrical components.
Ready to get a quote or have a question? Give us a holler and we'll get back to you within 24 hours. Our estimates are always free and accurate, and our rates are fair for all home, estate, office, apartment, renovation cleanouts and commercial jobs.
Our Erie Estate & Property Junk Cleanout Services
In addition to services lifted above, our crew also provides a wide range of property and junk cleanout services in our Erie coverage area. These services includes partial and full cleanouts for estates, houses, offices, apartments, retail stores, attics, garages, basements, eviction properties, construction sites, barns, storage sheds, storage units, warehouses, commercial businesses, hoarding homes, and a lot more.
Need Junk Removal In Erie?
Don't let that junk pile up and become a hazard for you, your family, your neighbors, your employees or customers. Call your Erie, PA junk removal pros today for your home or business needs, including estate, house, apartment, and renovation cleanouts.
Your Erie, PA Junk Removal Pros
Life can be messy. We get it, and we're dedicated to helping our customers de-clutter not only their property but their lives, too.
Your needs come first when you call us. We're not in the business of selling you every service in the book — we're in the business of helping our customers reclaim their space.
With over two decades of experience in the region, our company is fully licensed and insured in Pennsylvania and the United States. Our employees are intensely trained, skilled and have passed all required background checks.
If you've got trash that's got to go, give us a call and we'll make the haul at rates that are affordable.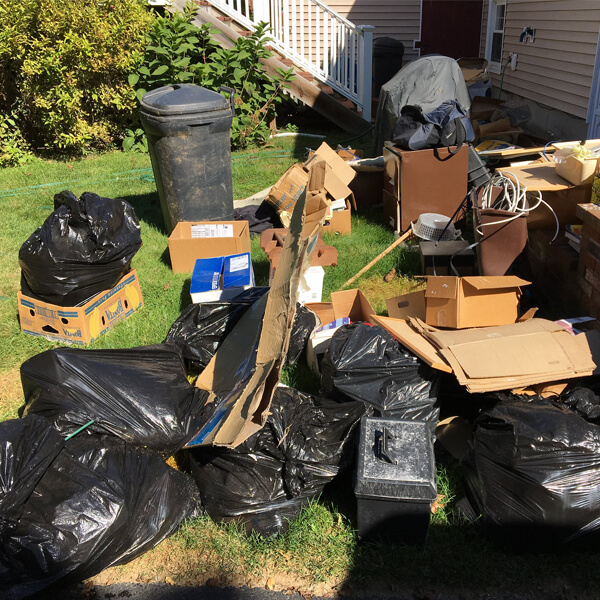 Why Choose Erie Junk Removal?
When it comes to professional junk removal services, you need the best. We are the top-notch choice when it comes to junk removal services in Erie, PA.
With years of experience, our local business seeks to exceed excellence. Expect the following from our company:
Free junk removal quotes and estimates
Professional service and care for your property
Always available 7 days a week
Award-winning service 
Affordable rates and competitive pricing
Locally owned & operated in Erie, Pennsylvania
Eco-friendly disposal and recycling of all garbage
Always on time and prompt to return your texts, calls, and emails.
Before you settle for any junk removal service, make the right choice and give us a call today.
When my mother died last year, we were met with piles of rubbish, paperwork, and knickknacks in her home. We didn't know where to start. We didn't want to pay for junk removal, but this company was affordable and easy to work with. They cleaned  the garage, basement, and attic out per our instructions and we were satisfied with the result.
We used their service when our commercial company was switching office buildings after ours was sold. They helped us clear old computers and other electronic equipment. They also hauled away old desks and furniture, as well as properly disposing of paperwork. Very professional group. We always recommend them to our fellow business here in NW Pennsylvania.
We're not proud of allowing yard waste to pile up on our property. We had finally gotten sick of it, but didn't have the means to remove the weeds, leaves, sticks, branches, etc. on our own. We reached out to several junk removal companies for assistance, and this one impressed us the most with their fair rates, friendly demeanor, and solid online reviews. They delivered on all their promises and we couldn't be happier.
Our company operates in the heart of The Bay City. Although Erie is or home, we provide service to many surrounding communities and townships as well. They include:
North East
Harborcreek
Wesleyville
McKean
Waterford
Edinboro
Fairview
Girard
McLane
Avonia
Millcreek Township
Lawrence Park
Lake City
and more!
Get in touch with us today for top-rated clean outs for your garage, basement, attic, yard, kitchen, bedroom or any area in your house or office.
PA Junk Hauling & Removal
Phone: (814) 731-6300
Location:

715 W 8th St Unit 2A, Erie, PA 16502

Hours: 8am to 7pm Mon-Fri, 8am to 2pm Sat, Closed Sun