Electronics Disposal Services in Erie, PA
Keep our planet safe. Call Erie Junk Removal and get your electronics disposed of the right way.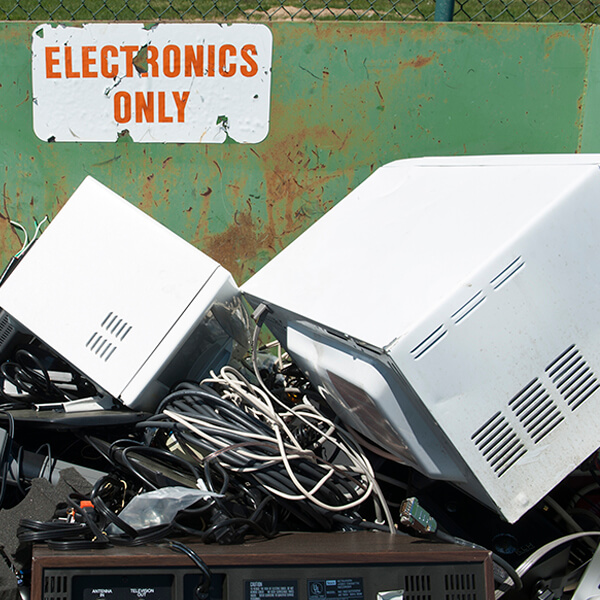 Electronics Removal Experts Near You
Erie Junk Removal specializes in electronics disposal and recycling. Whether you need to get rid of an old tube television set or dead PC computer or laptop, let us come by and help dispose of those electronic devices the right way.
We offer the following removal services:
TV disposal
Computer, Laptop & PC recycling
General electronics disposal
Battery disposal
DVD player and VCR recycling
Commercial office equipment de-cluttering and hauling
Don't let those items pile up in a landfill somewhere where they can hurt our environment. Give us a call and let us do the hard work!
Electronic devices like televisions, computers, and cell phones are made up of several components that contain harmful elements when exposed to the environment.
What's worse, dumping these items in a landfill increases the chances those components will degrade and leak into our environment, causing damage to our planet over time.
If you have an old TV or computer, don't just toss it in the trash. In addition to home services, we help local businesses with removing old office equipment like printers, copy machines, fax machines, and computer hardware. Give Erie Junk Removal a call. We'll work together to keep the planet safe and recycle your electronics the smart way.
Need Electronics Disposal In Erie, PA?
Give Erie Junk Removal a call for all your electronics disposal needs.
Let Us Handle The Heavy Lifting
Our company is passionate about helping our residential and commercial neighbors de-clutter not only their property but their lives, too.
In addition to electronic removal, we haul away old furniture, home appliances, hot tubs, yard waste and much more.
Our operation has been in business for more than 20 years in our region. We are licensed, insured and experienced. Our employees are friendly, professional, and knowledgeable.
If you've got trash that's got to go fast, give us a call for affordable removal services near you.